Online Pain Drawing Questionnaire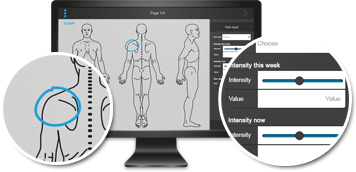 In order to establish a diagnosis of chronic pain, emphasis is placed on a patient's report of the pain's intensity, location, and character. KLONK Pain Survey is a solution which facilitates online filling of Pain Drawings and related surveys.
The Patient receives an invitation at home to fill-out the survey by email, text message, or at the clinic. The Pain Treatment Survey can be filled out on a computer, smart- phone or tablet.
The Patient completes the Pain Diagram and the relevant survey. The Pain Drawing is an anatomically correct drawing of the human body, enabling the patient to illustrate the areas affected. Questions can be posed concentrating on the highlighted areas-given. These questions can for example be a VAS scale or type of pain. It is possible for an administrator to determine the appropriate survey diagram for the patient as well as which questions must be answered in conjunction with the drawing.
Aside from the Pain Drawing a standard survey can be generated to be answered. These questions can equally be configured and can for example retrieve information about symptoms, life-style, nutrition, exercise and social behavior.
For the Healthcare Professional it is possible to generate reports for the individual patient and for groups, as well as configure a survey and pain diagram. Relating to the treatment, status reports for the patient can be printed providing actual condition and changes since the last treatment.
Replacing your paper pain drawing questionnaires with the online pain drawing Questionnaire willl give you the following benifits:
Reduce time spent on processing of pain questionnaires before treatment and after treatment
Increase the precision of the drawn and completed areas drawn on the questionnaires
Save time on subsequent storage and processing of statistical patient data
Make it easy to merge the calculated and drawn results with own measurement data
Option to place a specific "grid" calculation and sort grid of special areas of interest and your business partners around the world.
Help you to quantify each pain area by calculating the size, and answer questions for each pain area.
Calculate a measurement of the % the size of the measured area and access the size has changed during the process.
Results can be crossed with questions and answers to each pain area.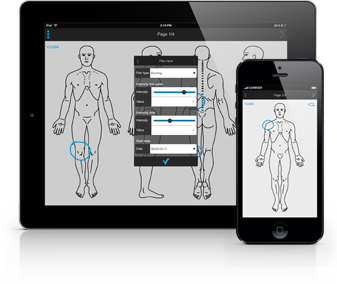 Our Pain Survey platform is a work in progress, a development project which is in the initial phase. We expect to release this project within the next year. The project is a collaboration between KLONK and leading pain experts from Sweden, Denmark and Norway, which will result in the development of a digital Pain Treatment Survey Platform. These experts will include Healthcare practitioners and researchers, with the aim of establishing the demands for the platform to optimized for both clinical and research purposes.